Batteria, Sistema Rapido - C. Micalizzi - Beginner
Metodo per Batteria Vol 1 - Tullio De Piscopo - Beginner
Solfeggio Ritmico n°1 - Dante Agostini - Beginner
Stick Control - George Lawrence Stone - Beginner
Easy Drum - Giampiero Prina - Beg+Medium
La Batteria Moderna - Walter Martino - Beg+Medium
Studi per Batteria Vol. I - Dante Agostini - Beg+Medium
Studi per Batteria Vol II - Dante Agostini - Beg+Medium
Vic Firth 40 essential rudiments - Beg+Medium
Master Studies - Joe Morello - Beg+Medium+Adv
Patterns, Rhythm & Meter Vol I - Gary Chaffee - Beg+Medium+Adv
Metodo per Batteria Vol 2 - Tullio De Piscopo - Medium
Future Sounds - David Garibaldi - Medium+Adv
Modern School for Snare Drum - Morris Goldenberg - Medium+Adv
Rudimental Jazz - Joe Morello - Medium+Adv
Studi per Batteria Vol III - Dante Agostini - Medium+Adv
The Art of Bop Drumming - John Riley - Medium+Adv
New Breed I - Gary Chester - Advanced
Other (specific) drum fields & books:
Jazz Drumming specific:
Advanced Tecniques for the Modern Drummer by Jim Chapin; Beyond Bop Drumming and The Art of Bop Drumming by John Riley; The Drummer's Complete Vocabulary by Alan Dawson; Art Blakey's Jazz Messages by John Ramsay.
Advanced Studies:
New Breed Vol. II by Gary Chester; Patterns - Stickings Vol. II by Gary Chaffee; Studi per Batteria Vol IV by Dante Agostini; The Omni of Drum Tecnique by Sal Sofia.
Specific Funk Drumming:
Future Sounds and The Funky Beat by David Garibaldi.
Specific Latin &/or Brazilian:
Afro-Cuban Rhythms for Drumset by Frankie Malabe & Bob Weiner; Afro-Cuban Coordination for drumset by Maria Martinez; Brazilian Rhythms for Drumset by Duduka Da Fonseca & Bob Weiner; Timbafunk by David Garibaldi; Incontro con Giorgio Palombino by Giorgio Palombino.
Specific Snare Drum / Hands:
Accents & Rebounds by G.L.Stone; Modern School for Snare Drum by Morris Goldenberg; Snare Drum Rudiments by Buddy Rich; "Snare Stuff" (?); The All American Drummer 150 Rudimental Solos by Charlie Wilcoxon; Modern Rudimental Swing Solos by Charlie Wilcoxon; Vic Firth's P.A.S. 40 Essential Rudiments by Vic Firth.
Specific Brushes:
The Sound Of Brushes by Ed Thigpen.
Solfeggio and reading:
Solfeggio Ritmico 1 and 3, Solfeggio Sincopato 1 e 2 by Dante Agostini.
Other Methods:
Double Bass Drumming by Joe Franco; Finger Control by Roy Burnes & Lewis Malin; "Full Set Stuff" (?); How Not To Play Drums by Charlie Persip; La Batteria by Andrea Centazzo; Drum Method by Gene Krupa; "Ralph Pace" …; Syncopation I & II by Ted Reed; The Spirit of Percussion by Airto Moreira; Guide Book For The Artist Percussionist by Morris Goldenberg; Enciclopedia dei Batteristi Rock by Harry Shapiro.
Minus One - Aebersold CD & Methods:
Contemporary Drummer + 1 by Dave Weckl; Jazz Drumming by Billy Hart; Mayden Voyage by Jamey Aebersold; Modern Drummer's Bass Lines by Modern Drummer; The Art of Bop Drumming by John Riley; The Funky Beat by David Garibaldi; Timbafunk by David Garibaldi; Vic Firth's Play Along CD.
...no, I haven't been thoroughly through all of'em...but I have done many, many, many pages, and played hundreds of tunes and gigs.
It's the advantage of been somewhere in the middle of nowhere, having a practice space, good ears, and been serious and critical with yourself; pushing things to a proper limit, playing for "real", without PA or "great" sounding drums and rooms...
In other words I've studied a bit, played enough, and tought drums to a stage where I can actually "tell" you what to do in order to reach your goals! To me it's plenty, it's already a great achievement thinking back about my beggining days!
Hey, if you feel like it contact me and help me improve my drumming and my teaching by trying to be better with
YOU!!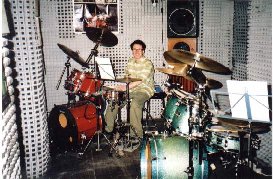 Hey, world-class drummer-teacher
Kenwood Dennard
printed my translation of his "Fourteen Considerations" on his
World Citizens
page. Check it out!