ENGLISH
Ciao a tutti!
Quite a while has passed since my very successful
tour of North-East India
with
Alessio Menconi
and
Pippo Matino
.
It was a very lucky chance being able to perform our own composition in front of a musically sofisticated audience, and I would like to thank all the people who made it possible:
Anung Longkumer
and
Keith Wallang
of
Springboard Surprises
who organized the tour and the Shillong "Roots" festival: great dedication and impeccable organization. Thanks a million, let's do it again!
The
Italian Cultural Centre
of the Embassy in New Delhi,
Patrizia Raveggi
and
Ilde Callocchia
: your sponsorship was vital. Thanks for believing in my words! Same like before: let's do it again!
Congo Square
and the
Jazz, Blues, and Beyond
festival in Kolkata: your program was a super highlight. Thank you
Satyajit
(very, very, very special thanks for everything),
Vivek
,
Tapan
,
Ashok
,
Siladitya
,
Munia
,
Anjan
,
Kaushik
. And of course
Tumi
,
Dina
,
Poulomi
.
Mapui
in Aizawl for her friendship and help.
Moala
and
Kevi
of "
Pulse
" in Kohima for making the Nagaland shows and workshop possible and for their enormous dedication and care. Yes, let's do it again! At least Kohima! Seriously, Moala, you are world class! Kinikase?
Khriehou
in Kohima for an incredible Naga welcome cerimony in his Bara Basti house.
Imli Jamir and Phreno
in Dimapur for a great party.
Avi
and
Manas
of "
The Works
" in Guwahati for making us feel like the Stones! Ok, forget the Stones, but really, you were great to us, organized a super show, and your effort plus the beautiful town will take us back! Are you on? PS: thanks for the "
Pizzeria
" too!
Chaiti
of
The Park
for her help on our Gran Finale in Kolkata.
Prabhat
in Shillong for a great friendly dinner in Shillong.
All the musicians and friends in India who helped with instruments and transports!
Souvik Dutta
of
Abstractlogix
for starting this all and "removing the obstacles" on our last gig.
Jonas Hellborg
for his phone call in 2003, his friendship, his thoughts, his musicianship. Ciao stronzo!
Alessio Menconi
and
Pippo Matino
: thanks for the laughs and the honour of making such great music together!
Antonio Silvi
, Deputy Consul General in Kolkata or whoever helped Pippo in getting his last minute Visa (...)
My brother Piergiorgio for taking us to the Airport in Italy and for his constant support.
All the fans around the north east for their incredible enthusiasm!
Last but not least, thank you for everything Shawn. Did you follow the events?
TILL THE NEXT ONE!
(hey, besides a few contacts and leads we're already working on like Jazzmandu in Nepal, Unwind Center in Chennai, Park Hotels in Bangalore, Chennai, and Delhi, Festa Italiana in Mumbay and maybe even Kolkata, we would like to perform in the west and the south of India: any contacts or enquiries from Delhi, Jaipur, Ahmedabad, Jodhpur, Udaipur, Mumbai, Goa, Hyderabad, Bangalore, Cochin, or else? Time frames: either november 2004 and/or jan-feb 2005. Let's go!!!!!)
Hey, if I forgot YOU, send me a nasty e-mail, please!
andrea
---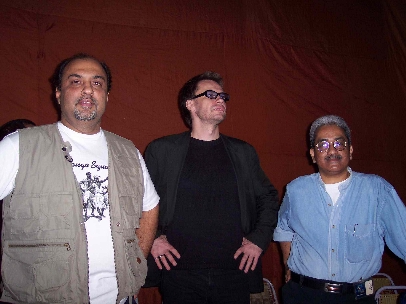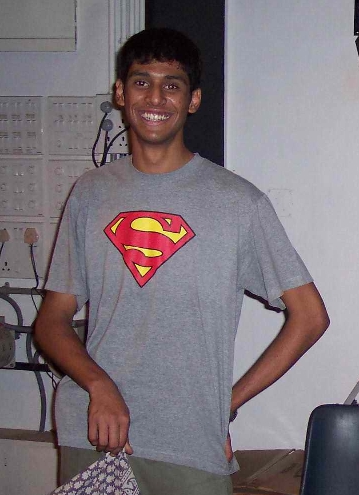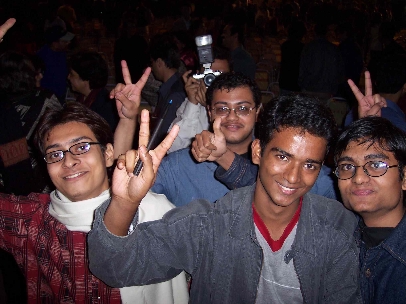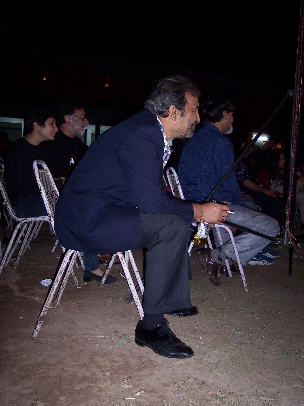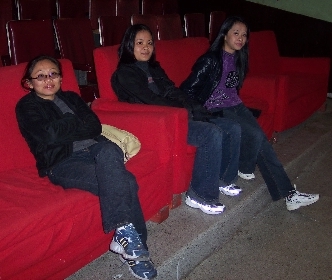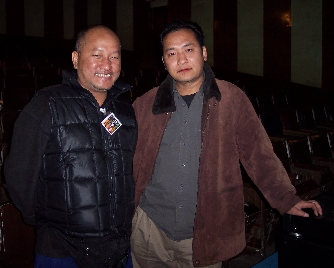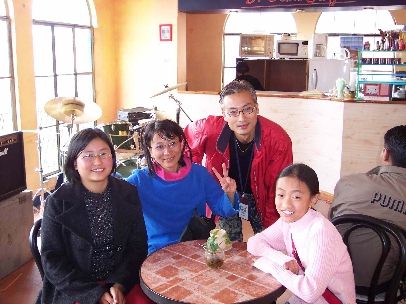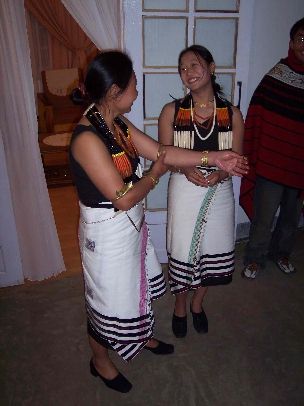 ---
IMPRESSIONS FROM INDIA (FEBRUARY TOUR 2003 WITH
Jonas Hellborg
and
Shawn
Lane
(see
www.abstractlogix.com
for an exclusive INTERVIEW and
www.congosq.org
) for other news, articles, photos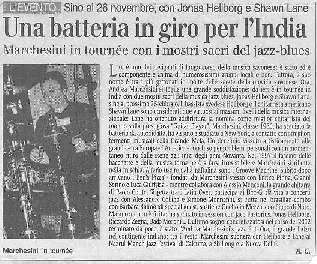 "Let's just say it was the best jazz concert I've been to in my life, and leave it at that. I'd heard Cobham and Ponty live a few weeks earlier, but it was nothing compared to the power and fury of Lane-Hellborg-Marchesini with Selva, a percussionist from Madras"
Shubho Sengupta on the Nazrul Manch concert
"We had only three days to publicize the event, still then the audience turn out was great and for the crowds to see these legends, Live !! was so great and I could recall one of the audience chanting " HALLELUIAH !!! ".. It was great"
Benjamin Nonoa on the Aizawl concert
"The band was then specially invited by the King and the Queen of the state of Tripura (talk about royalty!!). They played at their palace in Calcutta on the 22nd of February. It was a very private affair. The show was just mesmerizing with band playing real soft and delicately"
Souvik Dutta
"They played from 10 pm to 2 am with a 30 mins breather from 11.40m to 12.10 am. Shawn was ferocious. Naima was a great highlight. Andrea Marchesini from Italy has been tremendous"
Souvik Dutta on the Someplace Else - Kolkata concert
"... just came back from a clinic that Shawn , Jonas and Andrea did. it was just great. Shawn did a very powerful Little Wing that just got the crowd ecstatic. Then they went to a major record store and did a promo show for 30 mins. People had just gone ballistic. By the way, Andrea Marchesini is a very very impressive drummer. "
Souvik Dutta
"For one good hour Shawn Lane and Jonas Hellborg and Marchesini gave it to us.If the guitar can be played faster, we'll never know. If there are better improvisations on the six strings we can never imagine. But that Shawn Lane was talking to God with his guitar, was there for all to see. He played. They played. And we were left with the hair at the back of our necks straightened for life."
Henant Amant Jain on the Delhi concert
"The Tripura House private show in Calcutta in front of the Royal Family takes that honour, imho. What a sweet, sweet show that was!"
Orko
"...smoking from what i hear......the show tomorrow is sold out......Shawn spent much of the evening signing autographs for hundreds of people on the streets of Calcutta....from what i hear there where people in tears..."
Big John
"Lane, Hellborg and Marchesini blew the minds of most of the teenyboppers"
Shubho Sengupta on the Delhi concert
INDIA TOUR DATES
Feb 6
Press Conference
at The Park, Kolkata
Feb 7
Workshop
at The Kolkata School of Music
Feb 7
CD Signing + short live show
at The Landmark Music Store, Kolkata
Feb 8
SomePlace Else
, The Park Hotel, Kolkata
Feb 10
Nazrul Manch
, Kolkata, organized by Congo Square
Feb 15-18
Cloud Nine
, Shillong (Meghalaya)
Feb 20
Vanapa Hall
, Aizawl (Mizoram)
Feb 21
Private show
at the Tripura House, Kolkata
Feb 23
Great Indian Rock Festival
, Hamsadhwani Theater, New Delhi