---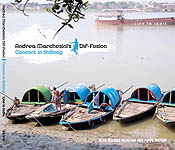 A review of "Concert in Shillong" by Andrea:


How can I describe it to both musicians, sofisticated music lovers, or just casual listeners? The best I can do (so far) is this:

We can certainly put the album in the "fusion", "instrumental", "electric jazz", "jazz-rock" cathegories. What you will hear is drums, electric bass (with effects and some loop machines which record bass notes and play'em back in a repetitive manner), and electric guitar (with loop machines too). Overall the impact of the trio is bigger then standard trios, the sounds of the stringed instruments and loopers make it feel like a quartet or quintet. A very good feeling! The album is dense, but luckily there's also a good number of slow tunes, rubato atmospheres, improvised interplay, spaces with no drums. I would say an incredibly well balanced album, especially considering it was recorded live without thinking at all of making a record out of the show! Now, let's see the 9 tunes 1 by 1:

Calcutta's Joy: Alessio Menconi wrote this tune before leaving for the tour. It can be devided into 4 parts: in the first one guitar and bass gracefully play improvised parts in an Indian atmosphere (guitar Alap), then expose the head melody over a simple odd meter arpeggio. after a few minutes (2nd part) the drums sets a 7/8 beat over which guitar and bass groove and solo. After a climax the atmosphere comes back down, drums stops, and the bass improvises over a minor rubato carpet of guitar notes. The tune ends with a strong drum solo over a rhithmic ostinato that reminds a bit of carnatic repetitions. Almost 12 minutes long. Probably the best piece on the album!

Bass Song For Napoli: written by Pippo Matino a long time ago, the song is very, very different. It is based on a long bass riff-arpeggio which the real-time looping machine repeats every 30-40 seconds. Drums starts of quiet and adds a bit of dynamic and sounds after every cycle. The interesting thing is that the guitar is free to float over this atmosphere which is relaxing at the beginning but frantic towards the middle and ending of the tune! Quite different, beautiful, and interesting. Uups, the drums is a little too loud, but we couldn't bring it down 'cause all we had was a 2 track fixed-mix recording, so, enjoy it anyway! Total time 4:45.

Dif-Fusion: As we got closer to the India tour we decided to put a little spice into our concerts and insert a totally improvised short section and Dif-Fusion opens with a 3'-4' total-improvisation of guitar and drums which came out incredibly good. I mean, not "easily and safely" developed, but daring, with stops, groove and tempo changes, fast sudden obbligatos. It begins with a "Punjabi MC" groove and later settles into a sort of McLaughlin-Cobham scenario. After this opening the whole band moves into a great and long version of "Blackbird", an old Beatles tune often used by jazz musicians as a good field for soloing and dialogs (some of you may remember Jaco's version or even Brad Mehldau's). Our interpretation is exceptional, loose, with a lot of groove and climaxes. I love it! total 12:05!

Doctor Mike: Another Pippo Matino tune. It is the opening track of his 1990 solo album. Mike Stern played on the original tune and Pippo told us it was written in the studio, while jamming and recording. A super-super energy-jazz-rock piece with a nice and clean melody. Lots of solo and grooving after the head. Hey, Horacio E Negro Hernandez played rums on the original track, and I had to work on that!! 6:02.

Blus Verses: A real "jazz" peace (but yes, played with electric instruments). A blues "up" tune with a nice head, with a couple of hits to make it a little more interesting. Then a long guitar solo, a cute bass solo, and a few drum trades. Tradition! Great piece to make the whole album more "round". Written by Alessio Menconi, 8:42.

I Shot The Sheriff. Well the story is that we played this tune only once, at this particular concert in Shillong, 'cause the festival had a strong "reggae" theme. We never rehearsed it, just called it at the sound check. Of course we all played it before. It must be because of Jaco Pastorius, but the tune has become a classic among fusion players for some instrumental fun at concerts and jams in Italy. We liked the way it came out, we played intensily and loose, and we decided to put it on the CD. Tons of groove and interaction, lots of fun! 5:43.

Remembering: this one comes straight from "Back To Europe", my 1989 solo album. As in the original version (which though sounded different 'cause it had 7-8 musicians on it!) I sing-vocalize the initial riff. A ballad with lots of melody and tasty guitar soloing (Mike Stern played the solos on the '89 CD. I am working on remixing it, so stay tuned!), touching but strong. I called it Remembering 'cause in those days I was thinking and remembering about Jaco and how we lost him so soon. Besides having jammed with him a couple of times, I also gave him pizza and cappuccino when he was begging around this coffee shop I worked at. "Remembering Jaco". The short "crazy" timeless section in the middle of the tune kind of represents his brain turning mad. What a musician!!! 7:03.

Teen Town: And here he lives! This is a fast version of one the most important "fusion" tunes ever. Written by Jaco Pastorius we play it with a latin feel and incredible intensity. In particular Pippo Matino seems to exceed the master by laying down such bass notes and grooves which make it feel like like... 3 players! Seriously, I've listened to a lot of bassists, but this guy from Neaples beats'em all! Superb guitar improvisation, then an open drum solo, and a loud ending. 8:57.

'Round Modnight: Chill, man! The CD ends with a calm solo-bass version of the classic Thelonius Monk piece. Great bass sound, harmonization, interpretation and feel. The perfect way to breathe in a bit of air after such a heavy duty album and ... start again from the top!

Thanks to all of you for reading. Hey, if it sound interesting enough, go to the "BUY" section, get one for you, and one for a friend!

Ciao!

---